Issue 67 | New resources and developments
About this resource
NEDC e-Bulletin
Contents:
New CBT Guided Self-Help fact sheet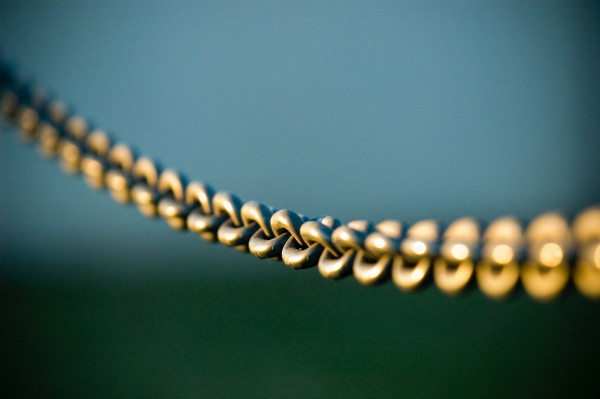 Editor's Note:
Welcome to the latest issue of the NEDC e-Bulletin, which is packed with links to new information and resources for our members.
Scoping, developing and rolling out a credentialing system for eating disorders is a significant joint three-year project between NEDC and ANZAED. Following a significant consultation process over the past six months, NEDC has published a Credentialing Consultation Report. The consultation process took place over several stages, including a survey completed by more than 600 people and nine focus groups with 64 participants. The results of these consultation activities are outlined in this issue by NEDC Research Lead Dr Angelique Ralph here. Our new Credentialing page has more information about the project, including a presentation on current progress at the recent ICED conference by NEDC National Director Dr Beth Shelton, NEDC National Manager Hilary Smith and ANZAED President Kim Hurst. We will keep you updated as activities continue.
We have practical new resources to share with our members, including a new Primary Health Network (PHN) portal on our website. NEDC is funded to support PHNs in building a system of care for eating disorders in each of their regions around Australia by making EDs core business and developing a capable primary healthcare workforce. To help develop a nationally consistent approach, this new dedicated space is a place where PHN personnel, as well as those working in primary care, can find many helpful resources – such as the Eating Disorder module of Brisbane South PHN's Quality Improvement Toolkit for General Practice, which was co-developed with NEDC - and access to PHN-relevant information, including Medicare updates and free e-Learning.
As part of our role to support access to evidence-based information, NEDC has also developed a new fact sheet on CBT-GSH (Cognitive Behavioural Therapy Guided Self Help). The comprehensive three-page guide, aimed at health professionals, explains what CBT-GSH is, how it can be used to treat eating disorders, who can provide it and much more. Find out more about this useful first-line treatment here.
There is a great deal of research being undertaken on eating disorders and COVID-19, the reliance on telehealth and more, and our members have the opportunity to participate. Current studies include the Inside Out Institute for Eating Disorders study 'The Impact of the COVID-19 pandemic on people with eating disorders in Australia' and Flinders University's 'Evaluating telehealth guidelines for delivery of eating disorder therapy'. Click here to find out more.
Recently published international studies are also included in our Further Reading section. Many are COVID-19 related, but we also feature research on the language used in discussions about larger bodies. Click here for more details.

Credentialing Report
Dear NEDC members and other readers,
I hope you are keeping safe and well during these difficult times.
I am writing this article to tell you what we heard from NEDC members and other stakeholders as a part of broad public consultation for the NEDC and ANZAED credentialing project.
As you may know, NEDC is working in partnership with the Australian and New Zealand Academy of Eating Disorders (ANZAED) to scope, develop and implement a credentialing system for mental health and dietetic eating disorder treatment providers in Australia. NEDC led the development phase of the project in 2019-20. As a part of this, we sought public consultation from December 2019 to June 2020. NEDC heard from stakeholders nationally, including people with lived experience of eating disorders, their family members and supports, health professionals, researchers, health sector organisations, mental health and eating disorder organisations and professionals working within these contexts. We are grateful to so many of our members and other stakeholders for sharing their personal and professional insights and perspectives and will use this information to inform the development and system design of the credentialing system.
As a part of the consultation process, we said we would feed back the key findings in a publicly available report. We are pleased to let you know this report is now available on our website here. The report outlines the processes we used to elicit people's views about credentialing and provides a summary and analysis of those views. In this article, I will provide a brief overview of the consultation process, who we spoke with, and outline some key findings, however, I encourage you to read the full report for a detailed description of the methodology used and a comprehensive account of the findings.
What we did
Hearing a diverse range of perspectives representing varying needs and interests of different people and groups across Australia was of paramount importance to NEDC when conducting this consultation process. As such, our process followed a phased and iterative approach where each phase informed the next, as shown in the figure below.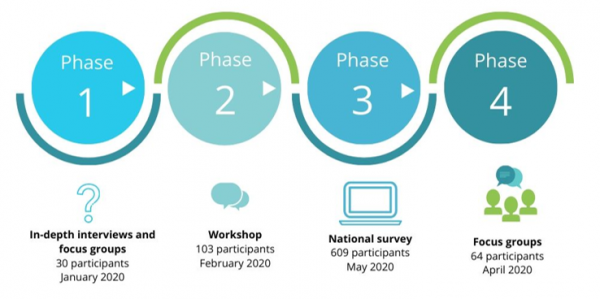 The national survey (phase 3) and focus groups (phase 4) were conducted online to ensure maximum reach across Australia, especially in a time with limitations on face-to-face gatherings and travel.
Who we spoke with
Overall, NEDC heard from over 650 people throughout the consultation process. Approximately one-third of people had lived experience of an eating disorder, including family members, supports and carers. The remaining two-thirds were professionals, of which 83 percent worked clinically with people living with eating disorders, while 8 percent worked in the healthcare system in a non-clinical role, 6 percent were researchers and 2 percent worked for non-government or consumer-representative organisations.
Stakeholders came from all states and territories, with 71 percent of participants residing or working in metropolitan areas. There was significant representation from regional, rural and remote areas comprising 19, 8 and 1 percent of participants respectively.
What we found
One area in which we sought feedback from the sector was the strengths and risks of introducing a credentialing system for the treatment of eating disorders in Australia. At the public workshop (phase 2) which took place alongside the NEDC Members' Meeting in February 2020, 103 participants were broken into small discussion groups, each a mix of professionals and people with lived experience, and were asked to generate lists of potential strengths and risks of introducing a credentialing system. Everyone was then given three "votes" to identify what was most important to them. These votes were analysed and the list of the top 12 strengths and risks were carried over into the national survey (phase 3), where each person was asked to rank these in order of what "is most important to you".

People with lived experience (including family members and supports) and professionals held similar priorities regarding the strengths and risks of introducing a credentialing system. Both groups felt positively about introducing a credentialing system and prioritised all strengths above risks.
The priorities for all participants are displayed in the table below, with lower scores indicating a higher priority, i.e. a priority ranking of "1" indicates that this is "most important". For a breakdown of how each group (lived experience group and professional group) ranked the strengths and risks, please refer to the full report.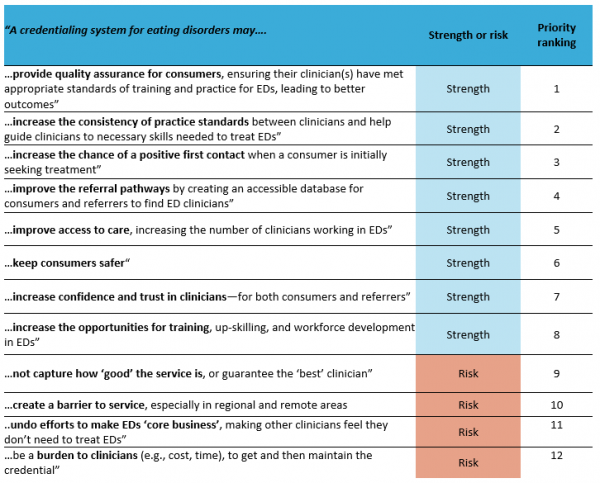 We also sought feedback on content including: potential criteria for credentialing professionals; barriers and enablers for different populations to adopting a credentialing system; the role of credentialing across different contexts; and useful functions and tools to include on a credentialing website. The full report outlines these findings in detail.
What does this mean?
There was broad endorsement for trialing a credentialing system for the treatment of eating disorders in Australia. In building a system of care for the treatment of eating disorders, credentialing was seen as having an important role to play. This role included increasing the quality and consistency of care provided to those living with eating disorders through the recognition of and access to credentialed professionals who meet a minimum standard.
Providing faster access for people seeking treatment to the right people for the treatment of eating disorders was seen as another significant benefit of credentialing.
Through setting a newly established benchmark, tied to evidence-based practice and standards, credentialing was seen as a way to keep people with eating disorders safer and increase treatment seekers' and referrers' confidence and trust in choosing and recommending clinicians.
When integrating the credentialing system into the system of care, it will be essential to make sure that the key message of eating disorders as "core business" across the whole system of care remains intact. Communication and language regarding "what is a credentialed clinician?" should be delivered carefully and transparently to educate treatment seekers and referrers.
Ensuring that the system is easy to access and not burdensome on clinicians in regard to credentialing requirements will also be important. Thoroughly evaluating and reviewing whether credentialing may create any barriers to treatment access will be a crucial part of the credentialing pilot before a credentialing system is rolled out.
Participants felt that the potential benefits of credentialing for people living with eating disorders were of greater importance than any potential benefits or risks to professionals, reinforcing that the credentialing project is driven by a "lived experience first ethos". That is, the primary aim of introducing a credentialing system is to contribute to building a system of care that provides more consistent and accessible treatment for people living with eating disorders.
The aim is that people living with an eating disorder will have more direct and timely access to the treatment they need, when they need it – safely, simply and comprehensively, and with increased capacity for choice of practitioner. NEDC looks forward to continuing to work in partnership with ANZAED in developing, trialing and implementing the credentialing system in order to contribute to building the system of care for people experiencing eating disorders and their families.
Warm regards
Angelique
Dr Angelique Ralph is the Research Lead at the NEDC. She has held research positions at the Sydney School of Public Health at the University of Sydney and in the School of Women and Children's Health at the University of New South Wales. She is passionate about research translation, that is, bridging the gap between knowledge and action through making high-quality research accessible and relevant to those who can use it. Angelique is also a clinical psychologist and has held clinical positions at the Peter Beumont Eating Disorder Service and Children's Hospital at Westmead. She currently works with people living with eating disorders in private practice and has a particular interest in working with adults with severe and enduring eating disorders, people living in larger bodies and people with comorbid chronic conditions.

New PHN portal
NEDC is committed to Building the System of Care for eating disorders, and to support that aim our website now has a dedicated portal for Primary Health Networks (PHNs). A multidisciplinary and multi-agency response is required to help create a national, consistent and evidence-based approach to achieving the prevention and management of eating disorders. NEDC is funded to work alongside PHNs to support their integral role in the Australian health care system.
Through this online portal, PHN personnel along with eating disorder stakeholders and experts in mental health, health promotion, public health, education, research and the media can find links to practical resources including our Peer Work Guide, the NEDC-Mindframe media guidelines, and also access information about Medicare items, fact sheets, e-Learning and more.
NEDC recently worked with Brisbane South PHN in the production of the Quality Improvement Toolkit for General Practice – Mental Health: Eating Disorders module. This toolkit is designed to support general practices in the identification and management of people with eating disorders. Access the toolkit in the new PHN portal.

New CBT Guided Self-Help fact sheet
Manualised Cognitive Behavioural Therapy Guided Self Help (CBT-GSH) is recommended as a first-line, evidence-based psychological intervention for adults experiencing Bulimia Nervosa, Binge Eating Disorder or Disordered Eating.
Our new three-page fact sheet for health professionals explains the evidence behind the treatment, contraindications, critical checks and considerations; who can deliver CBT-GSH and their role; recommended manuals, expected outcomes and and practice points for initiating treatment.
Screening and assessment is also covered, as well as a practical guide to accessing professional skills development and training in CBT-GSH. Download this new fact sheet here.

Further Reading
COVID-19
COVID-10 and telepsychiatry: an evidence-based guidance for clinicians Journal of Medical Internet Research Mental Health, Smith et al.
Eating Disorders during the COVID-19 pandemic and quarantine: an overview of risks and recommendations for treatment and early intervention Eating Disorder: The Journal of Treatment and Prevention, Cooper et al.
Exploring the ways in which COVID-19 and lockdown has affected the lives of adult patients with anorexia nervosa and their carers European Eating Disorders Review, Clark Bryant et al.
Children and Adolescents with eating disorders during COVID-19 confinement: Difficulties and future challenges European Eating Disorders Review, Graell et al.
Telehealth
Family-based treatment via videoconference: Clinical recommendations for treatment providers during COVID-19 and beyond International Journal of Eating Disorders, Matheson et al.
Weight Stigma
Language Matters: Patients' Preferred Terms for Discussing Obesity and Disordered Eating with Health Care Providers After Bariatric Surgery Obesity Society Research Journal, Ivezaj et al.
A Roadmap for Addressing Weight Stigma in Public Health Research, Policy & Practice, STRIPED (Strategic Training Initiative for the Prevention of Eating Disorders), Harvard School of Public Health.