In addition to individual treatment services, there are a number of eating disorder organisations in Australia with a focus on improving services and outcomes for people experiencing eating disorders. Some of these organisations have a national focus, while others work at a state/territory level.
These organisations can broadly be categorised into two types:
Lived experience organisations: organisations that advocate, educate, support, and provide evidence-based information about eating disorders to people with lived experience and their families/supports, as well as to the broader community. Some lived experience organisations also provide clinical services and/or conduct service development activities.
Service development organisations: organisations that focus on upskilling health professionals and services, and/or developing policy to guide health services and policymakers to plan for and effectively respond to eating disorders. Some service development organisations also provide clinical services and/or conduct lived experience activities.
National and state/territory-based eating disorder organisations across these two categories are shown on the map of Australia below.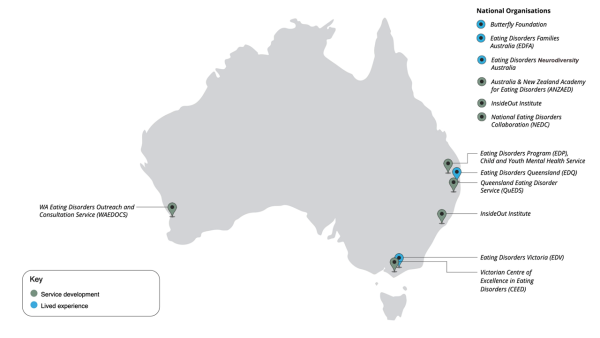 Figure 1: Map of national and state/territory-based eating disorder service development and lived experience organisations in Australia, current as of August 2023.
Click here to view.
Eating disorder lived experience and service development organisations in Australia are listed below, along with a link to further information about each organisation.
For more detailed information about the organisations listed below, including the broad functions carried out by each organisation, click here.
Lived experience organisations
National
The Butterfly Foundation - the national charity for all Australians impacted by eating disorders and body image issues, and for the families, friends and communities who support them. More information here
Eating Disorders Families Australia - a national not-for-profit run by carers with lived experience, connecting, supporting and educating families and carers of people with eating disorders. More information here
Eating Disorders Neurodiversity Australia - a not-for-profit organisation whose board members are all neurodivergent folk with lived experience of an eating disorder. We are advocating for better prevention efforts and systemic changes in clinical care for members of the neurodivergent community. More information here
State-based
Eating Disorders Queensland (EDQ) – a not-for-profit organisation providing integrated eating disorder support services to Queensland individuals and families living with and recovering from an eating disorder, their carers and loved ones. More information here
Eating Disorders Victoria (EDV) – a not-for-profit organisation providing support services, information and guidance to people impacted by eating disorders in Victoria. More information here
Service development organisations
National
Australia & New Zealand Academy for Eating Disorders (ANZAED) - the peak body for eating disorder professionals involved in research, prevention, treatment and advocacy in Australia, New Zealand and beyond. More information here
InsideOut Institute for Eating Disorders - Australia's national institute for research and clinical excellence in eating disorders, and lead of the national eating disorder research centre. InsideOut also has a statewide function. More information here
National Eating Disorders Collaboration (NEDC) – an initiative of the Australian Government dedicated to developing and implementing a nationally consistent, evidence-based system of care for the prevention and treatment of eating disorders. NEDC has a key role in fostering national collaboration and national coordination, and reducing duplication across the sector. More information here
State-based
The Victorian Centre of Excellence in Eating Disorders (CEED) - a state-wide program of Victoria's specialist public mental health services managed by North Western Mental Health, committed to the provision of quality services to those with eating disorders and their families. More information here
Eating Disorder Program (EDP), Child and Youth Mental Health Service - the EDP provides assessment and treatment services for families living in the Greater Brisbane area, as well as assessment, treatment, supervision, training and consultation-liaison services statewide. More information here
InsideOut Institute for Eating Disorders - in addition to its national functions, InsideOut Institute undertakes New South Wales-specific policy development and implementation, and service and workforce development. More information here
Queensland Eating Disorders Service (QuEDS) - a state-wide service dedicated to developing and improving the quality of eating disorders services in Queensland and enabling better access to a range of services for people affected by eating disorders. More information here
WA Eating Disorders Outreach and Consultation Service (WAEDOCS) - a state-wide service that aims to ensure youth and adults in Western Australia with an eating disorder can access optimal best practice care. More information here